Insight Inventory Self/Team New Version Online Assessment
Strengths-based Personality Profile Assessment
Our Assessment Center electronically scores the INSIGHT Inventory and generates our eINSIGHT Inventory personality profile reports online. It provides a feature-rich admin platform for trainers and facilitators to manage their accounts and profile results.
Manage participants and groups easily with customized group setup.
Organize groups by division, department, session title, training date or any other criteria you find useful by using the folders and sub-folders feature.
Assign the INSIGHT Inventory personality profile report(s) and create an access code for the group's participants to register and complete the INSIGHT Inventory online.
Allow access to results immediately or control the release to participants
View and print reports on demand
ALSO AVAILABLE ONLINE:
INSIGHT Inventory Observer Report
Take self-discovery to a deeper, more intuitive level.
The INSIGHT Inventory Observer Report helps individuals learn how other people view them compared to their own self-perception. It offers a positive and non-threatening environment to discuss the differences and similarities between the profiles. The open dialogue increases self-awareness and strengthens and creates more productive relationships.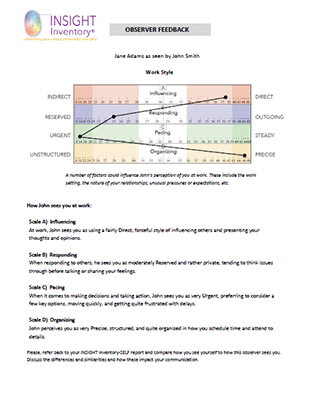 Insight Inventory Observer:   $12.20 PER REPORT 
INSIGHT Inventory Team Map
Team Member's INSIGHT Inventory Profile Shapes on One Chart
Engage teams in better communication and effectiveness
The INSIGHT Inventory Team Map provides a visual overview of a team's INSIGHT Inventory profile results on one chart. Team members visually see each member's profiles and the similarities and differences and gaps or clusters. This creates open discussions around team dynamics; how it impacts the team and strategies for better communication and improved team effectiveness.
A Team Map requires each member complete one of our INSIGHT Inventory Self profiles first and then a Team Map can be generated for the team.
INSIGHT Inventory Team Map:  $27.15 per Report 
---
How To Order
Send an email or completed Order Form to us at orders@olresources.ca or give us a call toll-free
at 1-888-889-2184. Additional information and shipping rates can be found here.